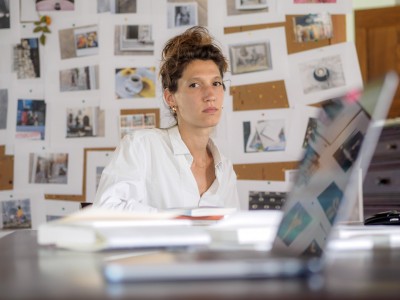 "In Gabrielle Le Bayon's films landscapes, people and myths come together in 'observational' moving images that are further combined with voice-over texts from interviews and readings. This dense relationship between image and text creates thought-provoking art works, in which classical, narrative elements are combined with the filmic tradition of the 'essay film'. In her film practice, the artist is on the search for patterns and analogies that reach deeper into the surface of the image, into a kind of 'DNA' of places and emotions. Ancient myths, those of classic Greek as well as pagan ones, are used as poetic tools to unearth the narrative beyond what the eye can see. The intellectual rigour of Le Bayon's thinking shows her ability to represent complex theoretical and art historical thoughts in simple images.
Le Bayon's fascination with the subject of mythology (her films 'Antigone Millennium' (2012) and 'Return' (2014) are both based on classical Greek texts) leads her to explore the history of spiritual and political communities that functioned as an alternative to dominants mode of co-habitation. Myth is central in her work, as any autonomous social structure, which also claims new spiritual believes as their own. Le Bayon's political subtext is also reflected in and folded into the formal aspect of her films in that they resist the kind of 'quick-fix' video aesthetic. One can find a political stance in the artist's interest in historical alternative living organisations. In a contemporary consumer-based world, in which homogeneity is a precondition for an efficient market ideology, Le Bayon is exploring historical areas of resistance that could serve as models for thinking about how to live in today's context differently."

Maxa Zoller, Film Basel Curator, June 2015



Gabrielle Le Bayon is an artist filmmaker, who's work engages upon the relationship between myth and History, and the interactions between language and territory. Le Bayon studied at London College of Communication and Royal College of Art in London. She has shown work at places such as MOCA Hiroshima JP (solo show); W139, Amsterdam; International Film Festival Oberhausen Seminar with LUX (UK) & Flaherty Seminar (US); Visions du Réel, Nyon CH; ICA, London; MAMBA, Buenos Aires. In 2017, she was awarded a Visual Art Fellowship with the Civitella Ranieri Foundation and she was shortlisted for the Loop Discover Award, Barcelona. Her films are represented by 6x6 Project London and Videocloop Barcelona.


Gabrielle Le Bayon est une artiste cinéaste dont le travail explore la relation entre mythe et Histoire, les interactions entre langage et territoire. Le Bayon a étudié au London College of Communication et Royal College of Art à Londres. Elle a montré ses films au MOCA Hiroshima JP (solo show); Visions du Réel film festival, Nyon CH; International Film Festival Oberhausen Seminar with LUX (UK) & Flaherty Seminar (US); W139, Amsterdam; ICA, London; MAMBA, Buenos Aires. En 2017 elle reçoit le Visual Art Fellowship de la fondation Civitella Ranieri et elle est sélectionnée au Loop Award Barcelone. Ses films sont représentés par 6x6 Project Londres et Videocloop Barcelone.